PIZZA AND LIVE MUSIC! | FRIDAY 10TH FEBRUARY
DUBSOULS TRIO
Doors 5:30pm | Waterside Bar
Come and celebrate Valentine's Day a bit early with scrumptious Pizza and music from the Dubsouls to get you in the mood. 
Playing original songs and lesser known adapted classics,
Dubsouls Trio play with the traditional Jazz format of the lead vocals followed by improvisation from the keyboard and guitar linking melodies and trading solos!
Dubsouls trio feature; Andrew "Murph " Murphy – Guitar | Kim Oliver – Vocals |
Tom Wyeth – Keyboards 
FREE ENTRY
SIX NATIONS RUGBY
SUNDAY 12TH FEBRUARYAnother New Dawn………?Will England bounce back from the disappointment of the defeat by Scotland on Saturday and maintain their dominance over Italy? Having won all of their previous encounters with Italy at Twickenham, the Home of English Rugby, supporters will be hoping to put Saturday's disappointment behind them.Join us in the Club to watch the game in a family friendly atmosphere with food ( bacon rolls and a vegan option), a full bar and tea and coffee.Bar open from 2:00pm – match starts 3:00pm

FREE ENTRY


FRIDAY 17TH + SATURDAY 18TH FEBRUARY BATH BEER FESTIVAL
Friday 4:00pm – 11:00pm | Saturday 11:00am – 7:00pmEach session costs £9 and that includes £3 of beer tokens, a programme and a festival glass ( a substantial number of 2023 commemorative glasses will be available at both sessions on a first come first served basis , but depending on 2023 attendance, some visitors may be offered glassware from earlier festivals instead).Card carrying CAMRA members will receive an additional £2 of beer tokens at the event.Up to 30 real ales together with a selection of real ciders

There will not be live music or Pizza on sale in the Waterside Bar on this date because of the Beer Festival. However the bar will be open and there will be food on sale . Back to normal next week .

For more info please visit: https://tckty.camra.org.uk/e/98/bath-beer-festival-2023ENTRY | £9.00

PIZZA AND LIVE MUSIC!
FRIDAY 24TH FEBRUARY Dexter Selboy and the Shonky Trio
Doors at 6:30pm | Music starts at 6:30pmThere's so much New Orleans slink in Dexter's barfly blues music it's hard to believe it comes with a BS postcode. That's partly down to the impeccably shonky foursome of musicians behind him and partly due to Dexter's own commitment to gravelling around where the bottles roll.

FREE ENTRY

SATURDAY 25TH FEBRUARY TRANSMISSION INDIE DISCO
8:00pm – 1:00am Your regular indie night for the old school crowd is back in late Feb for another night of indie & alternative classics.

PIZZA AND LIVE MUSIC!
FRIDAY 3RD MARCH HAPPY KINGSLEY
Doors at 5:30pm | Music starts at 6:30pmHappy Kingsley is one of Wiltshire's most exciting live talents. The singer/songwriter dazzles audiences with awesome musicianship and accessible lyrics guaranteed to leave a smile on your face and a melody in your head.

With two EPs and a live album under his belt, the Happy Kingsley legacy is on the rise. Expect this show to make you laugh, cry and ultimately wonder how he makes the acoustic guitar sound like you've never heard it before.

Come along to discover why these original tunes have forged a place in Chippenham folk lore. You will also be treated to the odd surprising rendition of classic cover songs performed in eclectic new ways.

FREE ENTRY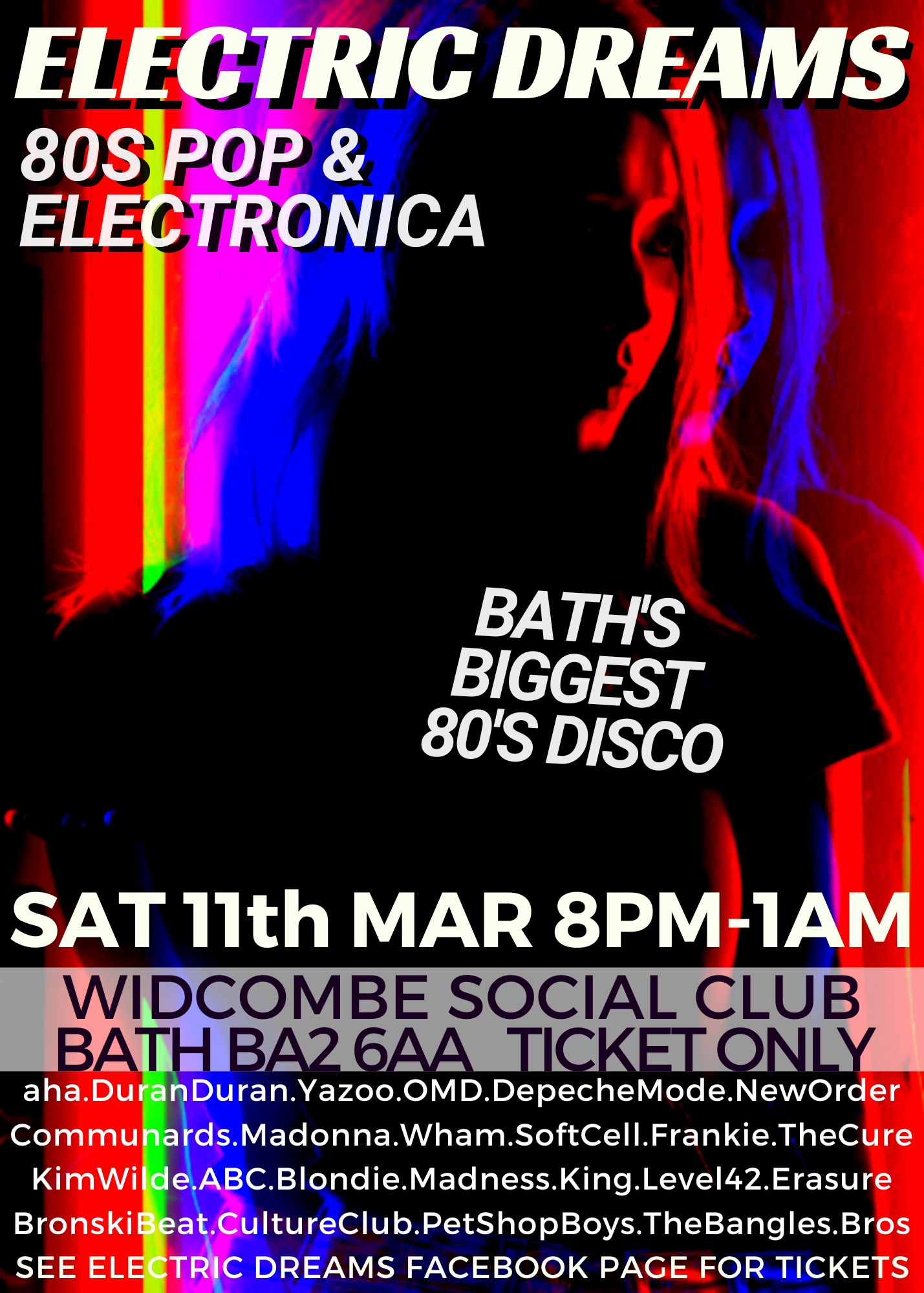 SATURDAY 11TH MARCH ELECTRIC DREAMS
8:00pm – 1:00am One of Bath's best loved nights, and the biggest 80's night in town. Come and get into the groove.
PIZZA AND LIVE MUSIC!
FRIDAY 10TH MARCH Gypsy Swing Jazz
Doors at 5:30pm | Music starts at 6:30pmFREE ENTRY

PIZZA AND LIVE MUSIC!
FRIDAY 17TH MARCH JUST PARSONS

Just Parsons provides his beautiful songs for our Friday Night Social. Join us for pizza and tales of questionable romance.

Doors at 5:30pm | Music starts at 6:30pmFREE ENTRY
SATURDAY 25TH MARCH A LOT OF LAUGHS
Doors at 7:15pmDr. Phil Hammond and guests present a night of comedy…

TICKETS: £15.00
FOR TICKETS PLEASE EMAIL VANESSA@BOYSINMIND.CO.UK OR SCAN QR CODE BELOW
Widcombe Social Club
Widcombe Hill
Bath, Avon BA2 6AA