By Harry Mottram: It has been the most read and commented story on the Bath Voice website and social media this summer. The proposals by two Bath architects Mark Wilson Jones and Jakub Ryng of Apollodorus Architecture reimagined the new stadium as an oval Roman colosseum, together with a classical rebuild of the leisure centre.
The imaginative idea complete with detailed artists' impressions of the rugby stadium have been flatly turned down by the club. In a short statement on their website the club stated in an answer to a question about the Apollodorus Architecture's plans: "No. The images are not being proposed by Bath Rugby for The Rec. The visuals are something that have been produced speculatively by a London architect. It is nothing to do with the proposed plans from Bath Rugby and our project team."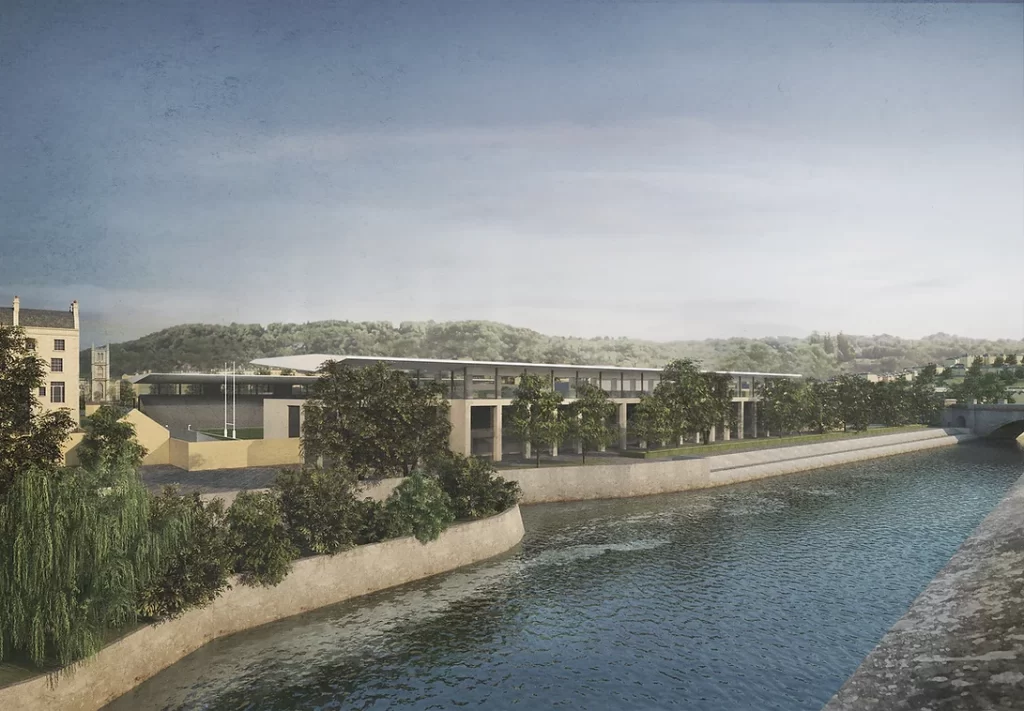 The decision will be a disappointment to the likes of veteran television broadcaster Andrew Neil who wrote on X formerly known at Twitter: "Stunning. So, sadly, will probably not be built." His thoughts sums up what most commentators have suggested – that it was a great design but it won't happen. Someone online called Gracie put it succinctly: "Who's paying for this then, premiership is on its knees."
Bath Rugby's long-held ambition to develop a rugby stadium at the Rec has been progressing however with plans to update the current structure with a more conventional design. The plans are published on their website and they followed a consultation earlier this year – and clearly the proposals from Apollodorus Architecture caused a certain amount of irritation since the club had already gone to great lengths and expense to publish their own plans for the ground.
Reporter John Wimperis interviewed the architects about their ideas.
Mr Wilson Jones of the architects said: "This is an idealistic vision put forward really just to shake things up and get people to think in those kinds of ways."
He added: "I'm interested in the application of common sense and a bit of traditional values."
Mr Ryng studied architecture at the University of Bath, where Mr Wilson Jones has been a lecturer in the subject for 23 years, and the pair's architectural firm Apollodorus Architecture specialises in classical architecture.
With the colosseum idea ruled out the club are proceeding with their plans which will see a permanent East stand and ground capacity raised to 18,000 from just over 14,000 currently.
They have stressed the new look ground will be open to other sports and to the wider community with work to start the rebuild in the middle of next year.
Planning permissions will no doubt be a challenge since the ground is in the centre of the city and on the Recreational Ground which is owned by an independent charity with the rugby club a tenant.
The new plans will feature: "… better concourses for circulation and more toilets (with hot water), more and improved food and beverage facilities; plus, conferencing and banqueting facilities in the West stand."
For details visit: https://www.bathrugby.com/stadium-for-bath/
Bath Voice Monthly Newspaper is distributed free to thousands of homes and some supermarkets – distributed from the first of the month. Harry Mottram is the News Editor
Email him at news@bathvoice.co.uk Bath website: https://bathvoice.co.uk/news/
Bath Facebook: https://tinyurl.com/bdtf2kep Also on Twitter: https://twitter.com/bath_voice Read the newspaper online at :https://issuu.com/bathvoice To advertise to thousands of Bathonians call Erica on 07402 441485 or email her on erica@bathvoice.co.uk
Harry Mottram is a freelance journalist. Follow him on Facebook, LinkedIn, Twitter, Instagram, YouTube, Pinterest, Telegram, TikTok and Email:harryfmottram@gmail.com
Website:www.harrymottram.co.uk Mobile: 07789 864769